Price:
£24.99
Ex Tax: £20.83
Brand:
GeoSafari
Product Code:
8+
Availability:
7
0 reviews
Write a review
Bring the solar system to life with a flick of a switch!
Learn your way around the solar system! Light and motion give this model a dynamic way to demonstrate the workings of the solar system. Want to expand young astronomers' horizons further? Bring the night sky into your home or classroom! Use the stardome to create your own personal planetarium. Learn to locate constellations and planets any night of the year (depends on night viewing conditions).
Two astronomy discovery products in one!
The motorized model demonstrates the workings of the solar system with light and motion. A lit yellow sun shines on all the orbiting planets and black central tower and support rods disappear in a darkened room. Longitudinal markings on the model's base lets you correctly position the planets. A guide includes reference charts and activities.
Turn your room into a Planetarium! Fit the star dome over the light to project stars on the walls and ceiling, to help you learn the constellations!
Awards given by:
Child Magazine - Best toys of the Year Award,
The National Parenting Centre Seal of Approval
Canadian Toy Testing Council Award
Requires 4 C batteries (not included).
Dimensions: Height - 23 cm; Diameter of sun globe - 10.5 cm; Length of longest arm - 34 cm; suggested space needed - 60 cm
---
We like the fact that the planets orbit the correct way (the same way that Earth rotates on its axis) - incredibly, half of the others we've seen go the wrong way. It also has a 'planetarium' (star projector) which is adequate for learning the constellations, but don't expect sharp, focussed images.
Note that the planets in this toy all orbit at the same rate, i.e. they don't orbit at rates relative to their years. For this you'd need a much more expensive orrery.
Also please note that the "heliocentric longitude" chart on page 2 is now out of date, and the address they give for further years, no longer works. Instead, use http://planetarium.wvu.edu/heliocentric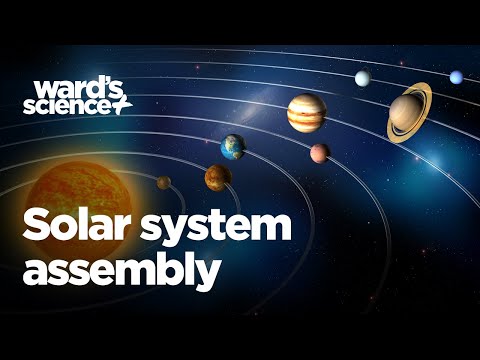 Write a review
Note:
HTML is not translated!