Price:
£29.95
Ex Tax: £24.96
Brand:
Haynes
Product Code:
10+
Availability:
7
1 reviews
Write a review
All of the engines used in today's cars are internal combustion engines based on the four-stroke cycle invented by Alphonse Beau de Rochas in 1861. Discover how these engines work! Follow the instructions and diagrams to assemble the 100+ parts of this four-stroke internal combustion engine. Assemble the moving pistons, camshaft, cooling fan and timing belt. Observe how the sparking plugs light up as they fire.
Build a realistic working model of a combustion engine. Includes light and sound features, light up spark plugs and moving pistons, valvegear and fan belt. Includes a 'Haynes Manual'
Finished model size 180 x 270 x 140 mm (H x W X D)
Once completed a certificate can be downloaded from the Haynes website.
The engine in this kit is a greatly simplified version of a real engine to more clearly demonstrate the operation of a four-stroke, internal combustion engine. Consequently, parts such as the oil filter, water cooling system, petrol pump and alternator have been left out. The water pump, carburettor, dipstick, and flywheel clutch are included but do not function.
The instruction booklet is excellent. Parts are clearly identified at the beginning, before any assembly instructions are given. In the back are illustrated articles explaining how the engine and some of its components work. There are also fun "did you know" tidbits.
The kit includes: instruction booklet, one screwdriver, screws, drive module, ignition pack and spark plug lights. It requires 2 x AA batteries (not included).
The internal combustion engine is an engine in which the combustion of fuel and an oxidizer (typically air) occurs in a confined space called a combustion chamber. This exothermic reaction creates gases at high temperature and pressure, which are permitted to expand. Internal combustion engines are defined by the useful work that is performed by the expanding hot gases acting directly to cause the movement of solid parts of the engine.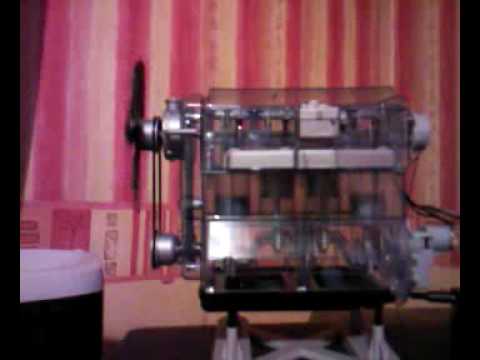 Write a review
Note:
HTML is not translated!