Price:
£12.99
Ex Tax: £10.83
0 reviews
Write a review
This is claimed to be 'the original' in the sense that it is made in America, by the successors to the firm who first marketed it in 1917. It is entirely metal and smartly packaged with string and stand.
Produced since 1917, the gyroscope has been a classic educational toy for generations. It continues to fascinate young and old alike with its mysterious force that seems to defy gravity. Each gyroscope is packed in a clear styrene box with starting string, pedestal and instructions for several amazing tricks.
---
The earliest known gyroscope-like instrument was made by German Johann Bohnenberger, who first wrote about it in 1817. At first he called it the "Machine". Bohnenberger's machine was based on a rotating massive sphere. In 1832, American Walter R. Johnson developed a similar device that was based on a rotating disk. The French mathematician Pierre-Simon Laplace, working at the École Polytechnique in Paris, recommended the machine for use as a teaching aid, and thus it came to the attention of Léon Foucault. In 1852, Foucault used it in an experiment involving the rotation of the Earth. It was Foucault who gave the device its modern name, in an experiment to see (Greek skopeein, to see) the Earth's rotation (Greek gyros, circle or rotation), which was visible in the 8 to 10 minutes before friction slowed the spinning rotor. (Wikipedia)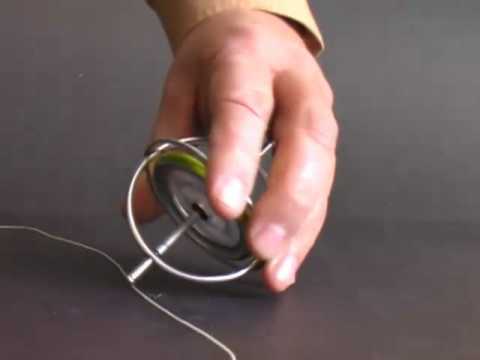 Write a review
Note:
HTML is not translated!