Price:
£25.00
Ex Tax: £20.83
0 reviews
Write a review
Give it a spin and gravity does the rest, creating a hypnotic display of light and sound!
Euler's Disk is a chrome plated steel disk that is 1/2" thick and 3" wide. One edge is carefully machined to a smooth radius. Nine pieces of magnetized holographic foil make a variety of brilliant surface designs. A concave mirror base provides a setting for the disk to spin on like a coin... that doesn't seem like it will ever stop!
The action of the disk is "spolling" (rolling and spinning). Hold the disk upright, slightly angled onto it's rolling edge and give it an easy twist. That's all there is to it. A spolling Euler's Disk produces a captivating sonic hum and a magical holographic display. Use any combination of the holographic film on top of the disk or any other magnet you have. Another way to see an increased visual effect is to shine a flashlight (or better, a laser pointer) on Euler's Disk when spolling in a dark room!
---
Euler's Disk is a scientific educational toy, used to illustrate and study the dynamic system of a spinning disk on a flat surface (such as a spinning coin), and has been the subject of a number of scientific papers. This phenomenon has been studied since Leonard Euler in the 18th century, hence the name.
The toy consists of a heavy, thick chrome plated steel disk, a slightly concave, mirrored base, and holographic magnetic stickers which can be placed on the disk. The disk, when spun on the mirror, exhibits a spinning/rolling motion, slowly moving through different rates and types of motion before coming to rest. Euler's Disk has an optimized aspect ratio and a precision polished, slightly rounded edge to maximize the spinning/rolling time. A coin spun on a table, as with any disk spun on a relatively flat surface, exhibits essentially the same type of motion, but is normally more constrained in the length of time before stopping. The Disk provides a more effective demonstration of the phenomenon than more commonly found items. (wikipedia)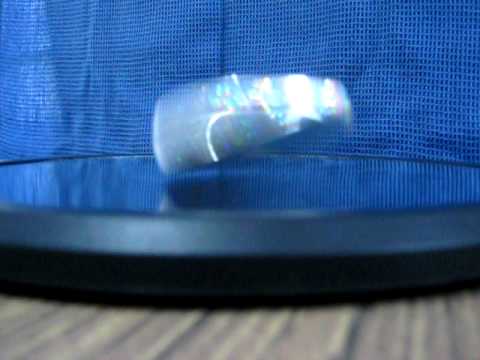 Write a review
Note:
HTML is not translated!